This post brought to you by Universal. The content and opinions expressed below are that of Movie TV Tech Geeks.
With the 30th anniversary of the hit movie Back to the Future approaching, Universal is re-releasing the movie on blu-ray on October 21, 2015. This is the date is particularly special as it is that day that Doc Brown and Marty McFly visit in Back to the Future Part II, as they try and prevent Marty Jr. from going to jail.
In addition, the animated series will also be released for the first time ever on DVD and the movies will be screened in theaters to mark the anniversary.
So in the theme of Back to the Future, I thought about what I would do with the ability to time travel.
One event I would travel to would be Apple's initial public offering on December 12, 1980. I would definitely invest as much as I could, knowing that in the next 30 years the stock's value would increase by over 10,000%. The company is worth billions of dollars now and an investment of about $5000 back in 1980 would have yielded over $1.5 million today. On top of that, I would probably also look at buying some properties, as I now know just how much housing and lot prices have gone up in value in the next few decades.
In addition, I think I would also travel back to when I was about 4-5 years old. Now looking back I regret wanting to be a teenager or older the whole time. I definitely would want to relive my elementary school years having realized that those are probably the most carefree time in our lives.
After some traveling to the past, I would also love to travel into the future. First, I think I would want to go forward about 50 years and see where the world is going to be when I am older. Hopefully, there will be lots of innovation in cures of diseases and also inventions that allow us to lead more sustainable lives on Earth.
Next, I would also want to travel very far into the future, like 1000-2000 years. I am curious to see if the recent claim saying that we are entering the Earth's latest extinction has any truth to it. The study that was published in Science Advances journal stated that humans have accelerated the loss of species in the past few hundred years and that with the loss of biodiversity, we are bound to be facing extinction in the relatively near future. Therefore, I would be interested to see if humans will be able to stop this natural process. And if we are still living happily on Earth then, I wonder how we are able to maintain some sort of standard of living since I assume that our population has continued to grow larger and larger.
Going far into the future would also have me wondering about where we are in space travel. As our space endeavors become more and more adventurous, it wouldn't be that hard to believe that there were people inhabiting other planets or that space travel had become a public service.
This far forward, I can't even begin to imagine what our methods of communication would be like. Will we still be talking through devices? Or will we be holograms that can pop up in front of whoever we want to communicate with?
In conclusion, I think the idea of time travel really presents itself with so many opportunities. I would love to go into the past to be part of events that I know will forever be crucial parts of history. I would also love to go into the future to see the innovations of tomorrow and what humans are capable of creating as technology and our knowledge base advances. However, the future is a bit unknown considering the current unsustainability that plagues many industries in the world. It would be interesting to know whether we continue to expand our knowledge or if our negative impacts on the world (i.e. specie extinction, global warming, etc.) begin to limit where humans are able to go in the future.
Nonetheless, if I have learned anything from Marty McFly, it is definitely that you have to be careful when playing with your past and future because you never know just how it will affect the present.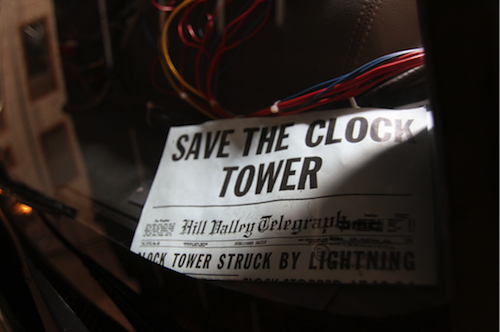 Be sure to check out the anniversary release pack of Back to the Future, which includes all 3 movies, additional content and more.
If you could travel to a specific moment in time, which would you choose?